scrive_sempre
Hello
idiolatry
!!
Add me and all that jazz if you like.
So long,
Just wanted to remind all you ladies (and supportive gentlemen out there) of the 35th anniversary of Roe Vs Wade. It was because of this decision that we continue to have the right to make Our OWN CHOICES over OUR BODIES. It's never an easy choice, but it's important for us to continue to at least HAVE a choice.
Don't take your rights for granted. Every day there's hundreds out there who believe our right to choose should be taken away. This year, make a conscious effort to uphold these laws before those who think they know better in the White House try to take them away!
Here's a few sites to help you get started!
ProChoice.org
NARAL
Planned Parenthood
And if any of you are real interested, let me know and maybe we can start something up together to keep choice legal!


Watched this last night and it was a feel good flick as it's always been:




I haven't smoked in 2 days, so good for me. Haven't drank either. Already bought a plane ticket out of here (we're going to Syracuse at the end of the month to pick up Danny, then driving to Jersey and hanging there and NYC, then driving South to Georgia and then finally coming home.) On top of that, it's FREEZING outside! And by freezing, I mean very nice weather for most people of the north. Check this out:

Currently 53° F
Today
Jan 3
Mostly Cloudy / Wind
63°/54°


It's been so long since it's been this cold in Florida, I can't even remember when! So beautiful weather out at least. Unfortunately i've got to go to work, but then at least it's only 4 hours and it should be super busy meaning the time will go very quickly.

I can now also look forward to a check from the New Times plus my work check next week (all of which will probably go towards bills... *sigh*) On a negative note, I finally have to pay that $200+ that HSU has been harassing me about for over a year since they claim I cancelled their housing agreement too late. Egh. Fuckers are trying to fuck up my credit anyway so now i've GOT to pay. Even if only a little at a time. Which sucks since i've got to save up to start helping Tony pay bills for the apartment plus furniture/appliances we're going to need.

If anyone wants to buy us something for the new apartment when we get it later this month, let me know! I'd uh appreciate it -.-

And now I'm off to visit my mother because I can (and also, because Netflix X-Files dvds are waiting for me there! Huzzah!)

PS. I really want to go see this movie



Hopefully sometime this week.
January is starting off alright.
Current Mood:

cold


Where did Christmas go? I can't believe it's Christmas Eve already and it seems like I completely missed the boat. In all my time preparing and working extra to make money to buy gifts, the real feeling of Christmas has been lost on me. Not only me, but all those around me. This year, everyone has just seemed overly stressed and for what? We'll lose our hair and self medicate with food or drugs or both and we'll all die young because of it. I want to be a child again, sitting under an enormous (or what seems enormous) tree, gazing at multi colored lights and wondering what's in every box. More than that, I was to decorate my house with my mother while listening to old Christmas records, singing along to Edie Gorme and Raffi. I want to wear my Santa hat every where I go because it makes me and many others smile. Where did my Christmas cookies go? Where is the smell of pine? The only Christmas specials I got to watch were paid for through my Netflix account. I only had time to make barely personalized cards for my co-workers and the few friends I have that are not in the same city as I. I spent all Christmas eve wrapping presents in Target gift wrap, and doing a shoddy job at that. Didn't get to go to any holiday plays or caroling competitions. I went to see the Nutcracker, but only because it was at the beginning of the month. I went to a holiday parade, only because I was paid to cover it as a story for one of the newspapers I work for. My head hurts. I miss the simplicity of Christmas Past. I fear for Christmas future.

Santa, I used to write you letters every year. I would tell you about all the things I wanted and i'd give you extra items in case you were out. It was mostly in case my family couldn't afford them, because in the end I knew you were only a state of mind. I try to push myself up in to believing in you, believing in the Spirit of Christmas, believing that good things might still happen. But then people around me bring me back down to the reality of it. The reality of an incredibly commercialized holiday which has begun to cause more harm than good.

At least, that's what everyone seems to want me to think.

But I refuse. Despite my tired heart and my head ache, I want to believe. I will believe in Christmas miracles.

Santa, I want just a few things this Christmas. Please hear me out. I think they're pretty reasonable.

First, please give my family everything they need to be happy. I don't mean material goods, although if that helps them on their way to making their dreams reality- by all means. This year has been particularly rough with my dog being sick, my dad having health problems as well, and my Abuelito Ramon passing away. None of this has been easy to contend with, and every day is still a battle. We are all financially hurting, and I only blame myself for going overboard with the gifts. In part it's almost as if I believe if I get them all great material goods, they'll be happy and rest easy and not think about all the pain this year has brought. I hope in a sense it does temporarily alleviate certain issues. But at the same time, all I really want is for you to bring them some piece of mind. Especially my brother, who is completely stressed out all the time. And my parents, who are still the greatest people I know and love. And my dog Sparky, who has been with us for so many years, give him the strength to pull through until it's time for him to go. And then give us the strength to overcome that as well.

Mostly, give my Abuelita Gloria strength. She is my one true pillar of hope in the world. She deserves everything and even knowing this sometimes I still don't take the time to just give her a call. Please remind me, Santa, that I need to be a better person for her too. She needs me and I need her. We miss him so much, but we will be okay.

Santa, I also want Tony and his family to have strength through all their tribulations. They've had an exceptionally difficult year as well and I think they deserve not only a break, but good things to come their way. Give them this for Christmas.

Last, Santa... just bring back the Christmas Spirit I used to know and love. I miss it. We all do. Work some magic, I know you've got to have some left. Don't fail me now.

I hope the rest of you are doing a little better than I in this department. Spread some cheer, real cheer. Let's get through this together and enjoy the rest of it.



Love,
Priscilla
Dear Santa,


So this year, i'm just looking forward to continuing self improvement. I'm aiming to make things count and make them last. Here's to enjoying every second.

Happy Birthday to me :)


PS. For those of you in the 'hood, i'll be having a birthday dinner to cap off the festivities w/ all the friends that can make it out. Somewhere in Kendall, I haven't decided. Trying to figure out who has the best free birthday dessert. So if you can, call me later tonight. Dinner's at 9pm.
It's been about 8.5 hours since I was born. Not really born, but since my birth hour (moment?) and as usual, I don't exactly feel any older. I don't know what it is about birthdays that make me go in to overkill almost. I just enjoy a good reason to celebrate I guess. And now i'm 23, and that's still pretty damn young I guess. I remember being a kid and 23 seemed so far away. For some reason, it was what I had pictured to be the best age to be. Not 21 or 31 or 27 or 49 or 18 or 55. 23 was the golden age when everything should be in its right place. I don't know if it will be, but I have been working towards it at least. By 23, I was supposed to live in some crazy mansion or castle somewhere far away, with lots of maids and butlers running the show. I was supposed to have 3 or 4 cars at least, and plenty of kids and a husband who adored me. I was supposed to have finished school ages ago and be some kind of super genius with loads of money to throw around. As 23 got closer of course, my high hopes began to diminish into somewhat more realistic ones. I should have graduated and should have left Miami, living on my own in New York City or someplace. I should have been published (preferrably written a book by now) and have a successful writing career. Again, as the age got closer, my standards have fallen slightly. But it's not to say I haven't accomplished anything. I'm doing better than I was at 21, that's for sure. I've got a steady job. I've been published in 2 well circulated newspapers. I'm going to school, even if i'm not as close to a bachelor's as i'd like. I'm very close to an associate's at least, and striving forward for the next degree. And that's a good start I guess.
Current Mood:

pleased

Current Music:

Baila Como Juana La Cubana
I should do a proper post, but i'm tired and hungover from my party still. My Labor Day weekend was pretty damn fun. I'll try to post pics of German's birthday party later. I'm posting some from my party now. If anyone else that went brought a camera and took pics, please send me a link to them! My actual birthday is Wednesday.. might go out for dinner w/ friends that night (if anyone wants to join, i'll give you the info then).
Current Mood:

happy

Current Music:

Gilmore Girls Season 6


You probably saw it on MySpace already.... but if you haven't.

Dear ROFL lord.
Chávez to Propose Removing His Term Limits
By SIMON ROMERO
Published: August 15, 2007
CARACAS, Venezuela, Aug. 14 — President Hugo Chávez will unveil a project to change the Constitution on Wednesday that is expected to allow him to be re-elected indefinitely, a move that would enhance his authority to accelerate a socialist-inspired transformation of Venezuelan society.
Read more.
But I mean, really. Is
anyone
surprised?


I'm waiting to hear what Micheal says about my article for the Comm. News. Hopefully he gives me an assignment soon. Itching for it.

School starts soon. Egh.

I can't believe August is almost over. Allie and German's bdays are coming up. Then mine, Deyse's, Jenn's, Danny's, and fuck knows who else but i'm sure there's more. And then it'll be Halloween! And Thanksgiving! And then the holiest of holy days- Chrismukkah!!

I can't fucking wait :D !!


PS. We FINALLY made a successfully tasty tofu! Next up: cooking with Seitan!
Just finished my 4th article for the New Times. It's pretty cool doing this so far, think i'm getting the hang of it.
Current Mood:

geeky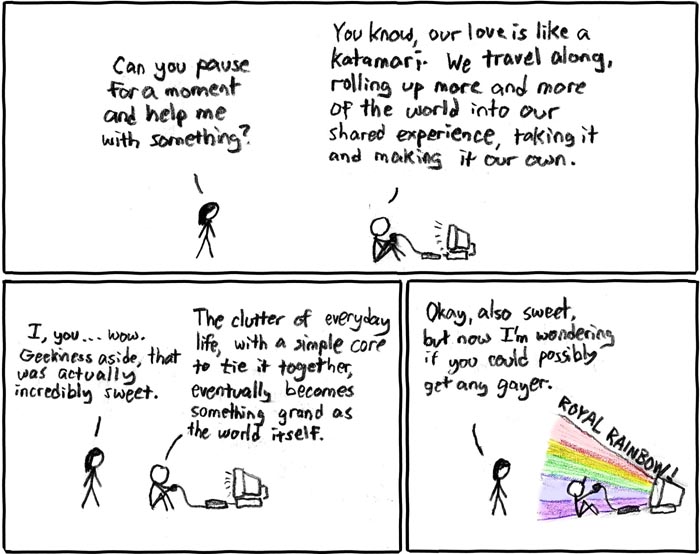 We Love Katamari is the most amazing game ever (and i'm sorry it took me this long to discover it).
PS. It seems my abuelito may be doing better. As such, I, too am better.
Current Mood:

cheerful